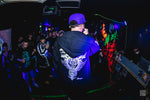 "Brain spark" zip hoodie
This collaboration is
Yabejan, a young tattoo artist who stands out.
The back print design expresses the spark in the brain,
The sleeve print design is an image of a squishy whirlpool.
It was very abstract, but it was beautifully embodied and expressed only in monotone.
The print of the item expresses the light and shade with stippling,
In addition, a special ink is used to create a solid and heavy texture.
In addition, by combining with phosphorescent ink, some designs are designed to glow in the dark.
For touring and nightlife, you can go anywhere as long as you have this.
Designed by: yabesian
A tattoo artist based in Tokyo. Started his career in 2017. The original tattoo created by skillfully manipulating grayscale does not fit into any genre.
Wearing size XL
The model is the rapper silent killa joint from Awaji Island.
Based in Kobe, he travels around the country and continues to excite each region with his comfortable sound and realistic rap with soul.
On April 1st, he will hold his first one-man live at Triangle OSAKA.