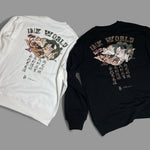 "Gyokuto" ​​Crewneck Sweatshirt
In this selection
Released a trainer with the motif of the 2023 zodiac "rabbit".
To express the color of the design,
High-density inkjet is used for back printing,
The front double logo print is hand-printed with silk screen.
Design by: IVORY
Kansai-based tattoo artist
Deeply involved in Japanese traditional performing arts and crafts
Express yourself with tattoo art
Familiar with HIPHOP and REGGAE street scene,
Has his works such as Rapper and DJ, which are now a hot topic
Artists never stop.
It is attracting a lot of attention not only from Japan but also from overseas.
There are two color variations, White and Black.
Available in sizes M, L, XL, XXL
From snug to oversized
A wide variety of items are available so that you can wear them however you like.
Wearing size XXL
Wearing size XXL
From December 10 (SAT), from the official online store
The price is 16,830 yen (tax included).