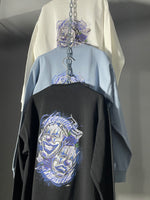 New release! Graphic designed by GAS, Two face is an attractive piece!

The stylish logo design on the chest is a hand-printed screen print.
Vintage-like specifications such as fabric and stitch work,
Around the sleeves with a laid-back feel, ultra-thick fabric with a crisp feel,
And the exquisitely adjusted size that does not become sloppy even when worn large.
The fabric woven with open-end yarn creates a unique taste as you wear it,
You can enjoy aging.
Mr. Gas's original sticker is included as a purchase privilege

Designed by: GAS

Started his career as a graffiti artist/painter in 2004.
Based in Osaka, many live painting appearances and mural paintings of commercial facilities,
Custom painting for motorcycles, apparel design, logo design, tattooing,
I have worked on artist jacket designs.
Established GS ART STUDIO in 2017.
In addition to commissioned works, he is also active in holding solo exhibitions.
Click here for artist page

Color: White, Black, Acid blue
Size: M, L, XL
Price: ¥11,000 (in-tax)
*Please contact us for sizes and colors that are out of stock.
inkworld.jp@gmail.com